WOMEN'S SHELTER WITH CHILDREN
This small-scale project is a community of women (with their children) that have endured difficult personal situations. The project organizes cooking workshops under supervision of these women. They also offer catering services in Cochabamba with a healthy menu made of local products.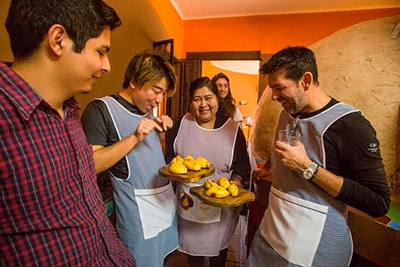 • Medewerker Horeca/kok (2x)
HOUSING
At the project in a barrio
north of the city
FOOD
Is arranged at the project
Cook/catering assistant (2x)
What will you do?
Is your heart with cooking and serving great food to guests? Then this might be the spot for you! You will be helping in the kitchen preparing gourmet food for guests and contributing to cooking workshops. With running a kitchen comes inventory regulation, financial insight as well as cleaning. But most of the time you will be doing what you do best: (co) creating Bolivian meat/fish/vegan menus and making sure our guest have a wonderful experience enjoying the food and atmosphere. As you will be working with international colleagues and guests, it is important that you are a team player and flourish in an international environment.
So, are you ready to meet this fun club and use your cooking skills to the fullest? Then you are the one they need!
What will you do?
This beautiful project has room for a student Social Work. So, in this project the women are offered weekly sessions to empower them. Think of mindfulness workshops, personal presentation, or legal assistance and organizing finances. In addition, all women have sessions with the psychologist of the project. All with the aim to get them back on their feet in about 8 months.
So: Do you have ideas for good workshops? Would you like to learn more about the approach of this project? And: Do you want to commit yourself to this fine target group? Then you are more than welcome!
Given the content of this internship, it is important that you speak Spanish.